Thu, 18 Jun, 2009
Architecture of Mereth Kahn 15

Ortolana 30, 229 AC.

Documentary and interview elements produced by The Architectural Media Collective of Surakosai.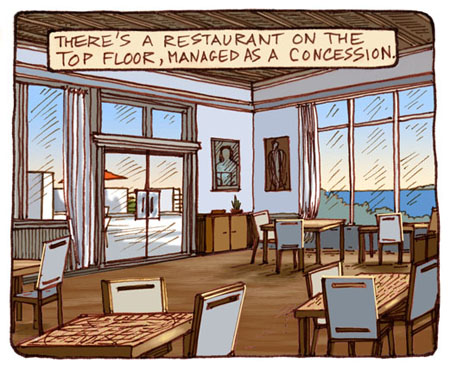 Mereth and the specialists of the Family Kahn architecture firm designed a restaurant for the residents, students, and visitors of the Theophoric Institute. At first, the food was rather simple, but now it is prepared by a multi-ethnic team of skilled gourmet cooks. The restaurant is on the top floor and looks out over the city and the bay. In good weather diners can sit outside on the terrace, which is the top of the "castle turret." The establishment is named "Sharbel's," after a famous theophore of the last century who conducted much of his (spying) business while sitting in his favorite eatery.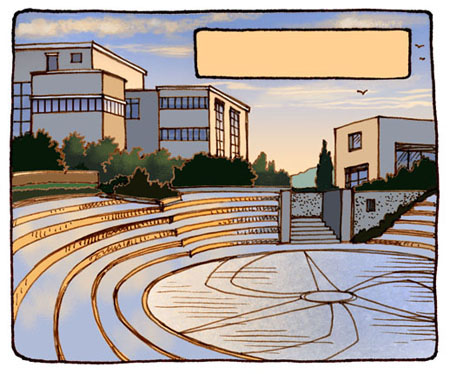 The amphitheater, here portrayed at twilight, can be used for all sorts of gatherings and entertainments, from concerts to picnics to martial arts exhibitions. The Theophoric Institute tends not to hold too many ceremonies, since students come as individuals on their own schedule rather than in large year classes. But there are some events that would justify using the amphitheater, such as seasonal celebrations like the Aurian New Year or the Keilian Winter Solstice festival. With a Khemaru director as well as architect, the Khemaru Festival of the Falling Stars, which is held at the end of summer, is now observed there.

Announcement as in the last entry: All the images of this Mereth Kahn series and some of the explanatory text are now published in a privately printed booklet. It is available from the Noantri Chronicler. E-mail Pyracantha at: volcannah@yahoo.com.

Posted at 10:57 pm | link