Sun, 17 May, 2009
Architecture of Mereth Kahn 14

Anthimia 27, 229 AC.

Documentary and interview elements produced by The Architectural Media Collective of Surakosai.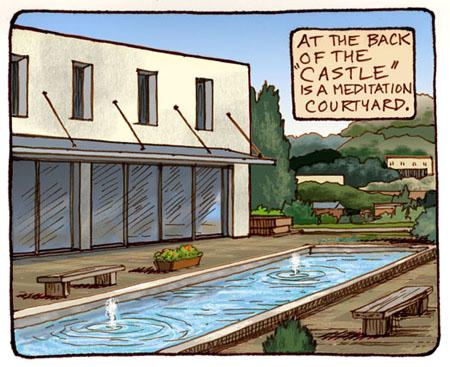 Director Tanheu personally requested a meditation courtyard for the benefit of Institute workers and visitors. Water elements were important in Mereth Kahn's designs for the Theophoric Institute at Surakosai. Clear pools have a calming effect for those who lead stressful lives, even if these are not for swimming or wading. This meditation courtyard, or psychic cloister, is at the back of the "Castle," or main building. It's kept as a quiet sanctuary for people to rest for a while during their working hours. "Retained effects" and nouetic baffles ensure psychic silence and privacy for cloister visitors.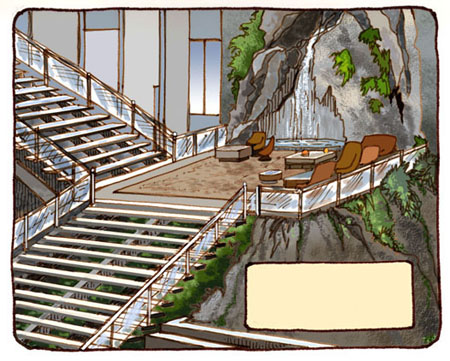 Inside the Institute's atrium is an open staircase which, on its way to the second floor, leads to an elevated garden "sitting room" where guests and regulars can enjoy a restful waterfall, reflecting pool, and plants. The "natural" stone cliffside and plants conceal a big central pier which contains engineering and maintenance works as well as an elevator. The waterfall helps keep the interior air fresh and provides a masking sound for conversations in the sitting room. The plants are actually in containers which are maintained by the garden staff. The waterfall flow can be regulated or even shut off if necessary.

Interesting announcement: All the images of this Mereth Kahn series and some of the explanatory text are now published in a privately printed booklet. It is available from the Noantri Chronicler. E-mail Pyracantha at: volcannah@yahoo.com.

Posted at 1:51 am | link