Electronic Music, Writing, and Reviews
"Altocumulus" is my artist name for electronic music, ambient, and my writing about experimental music and related subjects.
Thu, 16 Dec, 2010
Winter Music
The dead days are here. It's Solstice time, the darkest corner of the year. Humans try frantically to light up the environment, decorate, drink, overeat, make noise, do anything to keep the darkness at bay. But it really doesn't work. Just above the streetlights is that icy sky, from which flakes float down, more little white crystal reminders in the air. I saw them tonight, reflecting in the artificial light, and thought it looked almost right, almost like what the cards and the glitter displays were supposed to represent.
I hate Christmas music. I'm saying it right here. Pop Christmas music with its pseudo-nineteenth century atmosphere of bells and sleighs and horses and candles and sweets and Parson Brown, makes me lose my appetite. But outside of the classical favorites such as Tschaikowsky or Handel or modern composers such as Benjamin Britten or John Rutter (whom many music snobs consider as "pop"), where's a music lover to turn in these dark winter days? That is, someone who loves our little spectrum slice of music, electronic ambient?
Fortunately we are well-served with ambient winter music that is honest, evocative, and emotionally moving. I have room under the virtual Christmas tree here for two artists, one from frozen icy Canada, and the other from foggy Britain. The first one is Altus, from Ottawa. Altus, whose real name is Michael Carss, really deserves a long posting devoted entirely to him. He is one of the most creative and insightful composers in the entire ambient field, but if it weren't for Internet music distribution and social networks of music appreciators like Stillstream, his music would never be heard. He has chosen to remain professionally shy, even though it seems like he could score any number of film or commercial soundtracks. And he gives almost all of it away for free.
Altus' album "Black Trees Among Amber Skies" was released last March, but was meant to depict scenes from the dead of winter. The title refers to leafless trees against orange sodium lights in a big city on a winter night, where the amber light diffuses in the snowy air. The first movement, "Welcoming the Dead Days," will make your eyes misty and not from the cold. It is both beautiful and melancholy, as is the whole album. The second movement, "Waiting for the Cover of White," is a comforting blend of major harmonies, but the other movements (tracks, to be more specific) descend into musical darkness, with more dissonant harmonies. All of Altus' work is slow-paced and contemplative, and this set is a classic example. The last track, "Darker Skies Toward the Horizon," is soft, cold, and minimal, with a touch of sweetness.
Now that the cover of white is here, what do you listen to while you are decorating your Solstice tree? Altus, living in the land of winter, has created three long-form soundtracks, "Winter Embrace" I, II, and III. Each one is about an hour long and is inspired by the composer's love of nature in winter. "Winter Embrace I," as with all of Altus' music, is composed with a sophisticated orchestral sampling synthesizer which allows him to assign "classical" instruments to his melodic lines. Here, his main line is a warm tone-cluster "played" on bells that sound like the classic "Christmas bells," without being sentimental. It's like sitting by a hearthfire, safe from the winter winds outside.
"Winter Embrace II" is the only Altus recording that you need to buy. The proceeds from these sales don't go to Altus; they go to pay for the expenses of the Stillstream.com equipment and bandwidth. As with the other Winter Embraces, it features long, quiet lines of notes and a nocturnal feeling. It opens and closes with the sound of winter winds.
"Winter Embrace III" is my favorite of the series (so far, though Altus has said he isn't going to compose any more of these). Here, the repeating motif is "played" on the harp while the other virtual orchestral instruments whisper in the background. I suppose that a real orchestra, with real harpists, could play this, but the hour-long continuity of the harp line (later taken up by a celesta) would tax the patience and the endurance of a "real" harpist. (Maybe you could score it for a team of two or three, who would take over from each other during the performance.) The virtual harp's sequence is meant to evoke the constant fall of delicate snowflakes, and it does it wonderfully. The melodic line in III is clearer and easier to follow. What's more, Altus brings this concept to a majestic and moving peak, strengthened by string sections and majestic brass, twice during the piece, a point that brings mist to the eyes of even the most cynical musician. Thanks to Altus, the "Winter Embraces" almost make me like winter.
The other winter ambient album that makes winter tolerable (or even wonderful) is by British artist Kevin Kendle. Kendle, like Altus, likes to paint landscapes and portray nature with sound. Unlike Altus, all Kendle's works are to be purchased, but it's worth it. And like Altus, Kendle deserves a whole posting to explore his work. He's done albums devoted to butterflies, flowers, clouds, air, water, twilight, deep-space wonders, and many more poetic beauties of life. But I think his best work is his seasonal series. He has Spring, Autumn, and Winter, but so far he is missing Summer. According to his website, Summer is in progress but that was last posted a year ago. His masterpiece, in my opinion, is "Winter." Like Altus, Kendle uses a deep array of sampled instruments as well as "real" pianos, guitars, and flutes to create an orchestral sound with a strong "Celtic" flavor.
Kendle's "Winter" opens with "January Sunrise," a sparkling portrait of the sun breaking through icy fog into a snowy landscape. The next tracks, "A Flock of Birds" and "Snowfall," are slower, less upbeat and more meditative, with themes played on wind instruments and delicate guitar and chime accompaniment. The pace picks up with his brilliant track "Icicles," which not only imitates the rhythm of water dropping off the ice spires but gives a delightful feeling of playing in the snow. After that comes "Midwinter," which returns to the theme of patiently waiting for winter to be over, with a rhythm that imitates the motion of plodding through the snow. The longest track on the album is "Dreaming Fields," which is in a more minimal style, a shimmering underflow of notes with a quiet melody over it. The last track, "Silent Trees," is where Kendle wraps it up with a grand, repeating and building motif painting a musical picture of the winter sun setting behind empty trees, that can make you cry frozen tears. This piece brings the winter listener around to Altus' black trees again, the poignancy of winter, and the right music to get you through it.
You can find and download Altus' music at http://www.altusmusic.ca/

"Winter Embrace II" is available for a modest price at Blue Water Records

Kevin Kendle's music can be found and purchased at his Website, Eventide Music, Ltd.

Posted at 9:29 pm | link
Thu, 09 Dec, 2010
Household Apocalypse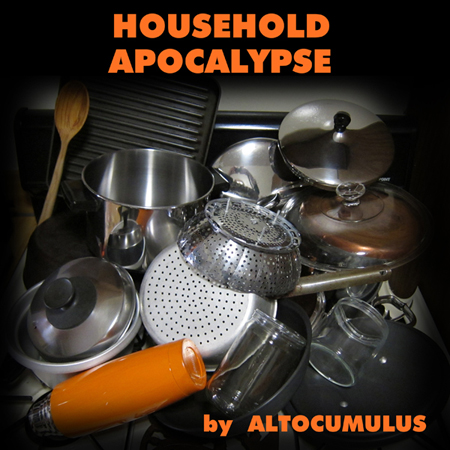 It has been forty years since I last worked with electronic music. I took it up again in early 2007 when I started using the Macintosh software synthesizer "GarageBand." When I got a Zoom H2 digital microphone I started creating pieces which eventually would comprise this album, "Household Apocalypse." December 7 was the release day for my first new album using modern software and digital devices. I was active as an electronic music maker 40 years ago, and now after all those years I'm back at it with a modern digital microphone and software synthesizers. "Household Apocalypse" is eight pieces of sound-collage. I hope that each one evokes a mood and a non-verbal story, whether apocalyptic or scary or eerie or even humorous, or a combination of all of it.
This is in the realm of what the Europeans used to call "musique concrete" or "found sound music." I record sounds in the environment or sounds made by striking, dropping, or scraping household objects like pot lids and glass jars. I also use sounds recorded through my windows or on my terrace as background. Then I add more sounds from my software synthesizer, the excellent Macintosh "GarageBand," and I modify the recorded sounds electronically. Smoosh 'em all together and you've got sound pictures, some noisy and some quieter. The noisy pieces are the apocalypse; the less noisy ones are evocations of a mood of quiet terror.
The picture here is the "cover" of the album. It's a photo of a jumble of my kitchen things, many of which I used as sources for the sounds in the pieces. "Household Apocalypse" is FREE to download on the "Just Not Normal" Net-label, based in the Netherlands and presided over by the excellent Mark "Mystahr" Stolk. Many thanks to Mark and to my friends at Stillstream.com who encouraged me to make noise again after so many years.
Posted at 3:26 am | link