My weblog ELECTRON BLUE, which concentrated on science and mathematics, ran from 2004-2008. This weblog, which is more art-oriented, is its successor. Please visit the archives of ELECTRON BLUE using the link to the right.
Wed, 09 Mar, 2011
Torch of Defiance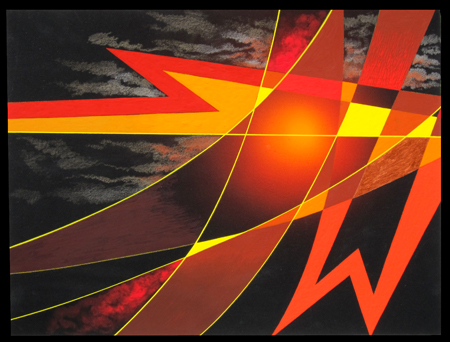 Finally, some new art for "Art Product." "Wyatt's Torch," my new painting, is now done. It was originally conceived as an abstract meditation on an incident from Ayn Rand's ATLAS SHRUGGED, but underwent a re-conception when I decided to enter it in a local juried show at Falls Church Arts. The theme of this juried show is "Letters," in which you have to somehow incorporate one or more letters from our alphabet into your artistic entry. In this piece, I've placed the letter W prominently in fiery red on a black background. W stands for "Wyatt." I hope my art is accepted for the show.
In Rand's book, Ellis Wyatt is a defiant oil magnate who blows up his own oilfields and refinery rather than allow them to be taken over by the government. What is left after the destruction is one flaming oil derrick that no one could put out. That came to be known as "Wyatt's Torch." I am a big fan of fiery stuff so I am glad to create a picture full of stylized flames, volcanic and industrial-apocalyptic at the same time.
"Wyatt's Torch" is acrylic and colored pencil on illustration board, 16" x 12", March 2011.

You can view a larger version of "Wyatt's Torch" here.

Posted at 1:54 am | link