My weblog ELECTRON BLUE, which concentrated on science and mathematics, ran from 2004-2008. This weblog, which is more art-oriented, is its successor. Please visit the archives of ELECTRON BLUE using the link to the right.
Wed, 14 Oct, 2009
Summer Pastorale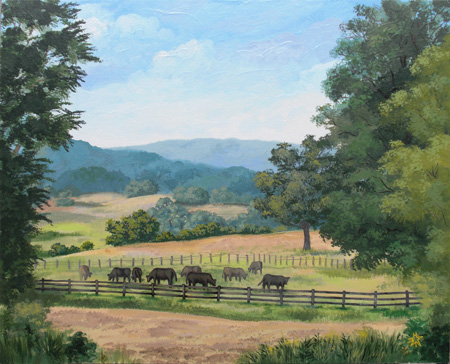 My ambition for August of this year was to create art which would preserve the essence of summer for the whole year. Sometimes, for various reasons, I don't get to enjoy the real summer as much as I would like. I have always wished that I could create some way to return to summer in the middle of the winter. I've tried sun lamps, humidifiers, indoor gardens under lights, turning the heat way up, drinking hot drinks, most things except taking a trip to Australia, which is a bit beyond my means.
I can always paint something though, even something which is highly realistic. I worked on this piece throughout August and part of September. It's a real scene that I experienced and photographed in the Blue Ridge area of Virginia. I tried to capture the soft colors of landscape seen through warm humid air. I'd like to be able to walk into a picture I created and sit on a summer porch for a while, in December. Where's that Holodeck when you need it? At least I have this painting, "Summer Pastorale."
Well, I don't have it right now, because I have deposited the original with a dealer who will try to market it to expensive restaurants or fancy inns in the Blue Ridge area. I do not have to own the original artwork to get the summer effect, as long as I have a good photograph of it. Maybe I'll sell it to a tourist or Virginia resident who wants to capture summer as much as I do. You can see a bigger version of this image here.
"Summer Pastorale" is acrylic on board, 20" x 16", September 2009.
Posted at 2:09 am | link