My weblog ELECTRON BLUE, which concentrated on science and mathematics, ran from 2004-2008. It is no longer being updated. My current blog, which is more art-related, is here.
Wed, 16 May, 2007
Nostalgic State
Another painting for my show is done. Although my show is about the "forgotten architecture of Falls Church," this one depicts the State Theatre, a well-known landmark that won't disappear any time soon. It's an old Deco-style movie theater which has been transformed into a place for popular music concerts, usually rock or country or blues. At one point the building was abandoned and might have gone the way of other lost local architecture, but as long as the bands play and the people come to the concerts, the State will survive.
The reason I am including it in my show is because the gallery-owner asked me to make a painting of it. This is a matter of civic pride. Just as Rockport, Mass. has its famous artists' subject, a "picturesque" old fishing shack nicknamed "Motif no. 1," Falls Church has its colorful State Theatre. Therefore I am happy to make a picture of it just to honor the town I've lived in for more than 17 years. There are other artists' renditions of it in the gallery, and now they'll have mine. As with my Mysterious Tailor Shop, I've portrayed the State in golden winter evening light, adding a single pedestrian casting a long Edward Hopper-esque shadow. The art is 11" x 14", ink and watercolor on board.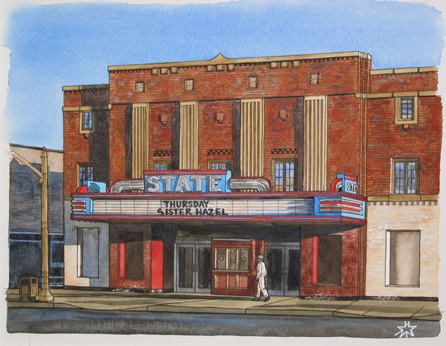 Posted at 3:08 am | link
---