My weblog ELECTRON BLUE, which concentrated on science and mathematics, ran from 2004-2008. It is no longer being updated. My current blog, which is more art-related, is here.
Thu, 23 Nov, 2006
The annual gathering
I'm off to the Baltimore area this weekend for the annual gathering of my fantasy fan friends. This is the twenty-sixth year of the convention, and they are still not spelling my mundane last name right. I'll be exhibiting art and hopefully selling some of it. Most of the time, I will be socializing and partying and eating and drinking, including holding "Salon Pyracantha." I will have Thanksgiving dinner with some of these folk before I go on up to the convention.
As you might imagine, my day job work has been wild as people bought mass quantities of food for their feasts. Cases of wine flew out of the store, and by the end of the day the flower bins were just about empty. I did sign after sign for holiday goodies, and after a while I got a bit silly. Here is the last sign I did on the day before Thanksgiving. The "creative" spelling is intentional.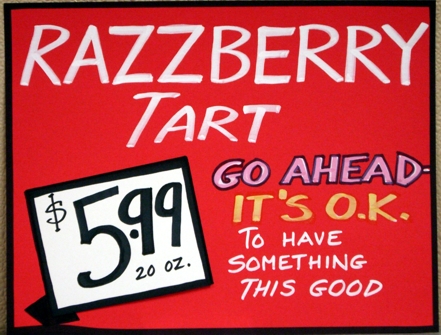 As all of you have your own Annual Gatherings, I wish a very happy Thanksgiving to the folks at home in Massachusetts, to all my Friendly Scientists, Mathematicians, and their families, to Jennifer S. who passed her calculus test, and all other Electron readers whom I may not know.
Posted at 3:45 am | link
---