My weblog ELECTRON BLUE, which concentrated on science and mathematics, ran from 2004-2008. It is no longer being updated. My current blog, which is more art-related, is here.
Sun, 11 Jun, 2006
This artist is not starving
Saturday I did a restaurant signage job, which I got through my Starbucks contacts. You've seen some of my Starbucks coffee signs on this Weblog from time to time. They're done in opaque acrylic markers on black boards. Someone from a chic restaurant in Washington DC (known to locals as "The District"), whose girlfriend's sister works at Starbucks, saw my work and thought it would be perfect for a large menu sign at his restaurant. He finally succeeded in contacting me and I brought my art kit down to the restaurant, near Dupont Circle.
The restaurant is Nage (Warning: This is a noisy website! Better turn your speakers down) which is attached to a Marriott Courtyard in Washington, and has a sister restaurant in Rehoboth Beach, Delaware. The food is best described as "Mediterranean eclectic." According to the restaurant people, "Nage" (pronounced "naj"), is a tasty bouillon liquid in which seafood is poached.
The sign, which is about four feet by three, is painted on the wall in "blackboard paint," which is used for chalkboards. This is what we use at Trader Joe's, too. My design was to go around the borders as well as on frames for the lists of beers and cocktails. I used an "art nouveau" style to do the borders, since I find that customers like this style more than other more modern forms. This is a summer and seafood themed border, so there are shells, a fish, and a lobster in the blue waves. I am scheduled to renew the border each season, so I'll return in the fall. I did all the writing this time, but the drink writing will remain while the food items, which are written in real chalk, will be erased and re-written (by the restaurant staff) every night.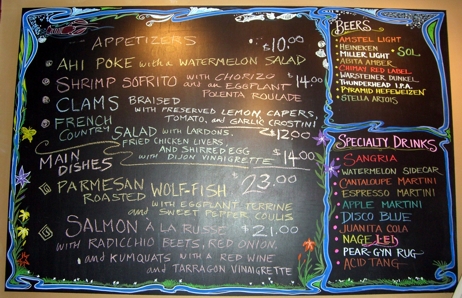 I was not only paid in money for this work, but was given a complimentary dinner there. I had a deep-fried lobster and cornmeal appetizer with jicama and mango julienne. For my main meal, I was served the "wolf-fish" that I wrote about on the sign. I had never heard of "wolf-fish" before, but it was white, tender, and tasty. It was served along with a chunk of hearty eggplant and cheese casserole. I sipped a Sauvignon Blanc wine and finished with a double espresso. No starving artist here!
Now back to calculus and ambient music. I am also planning some Electron entries on philosophy, science, and religion, lest I digress too much into gourmet indulgences.
Posted at 3:36 am | link
---